Cultivating Genius – ELAN Review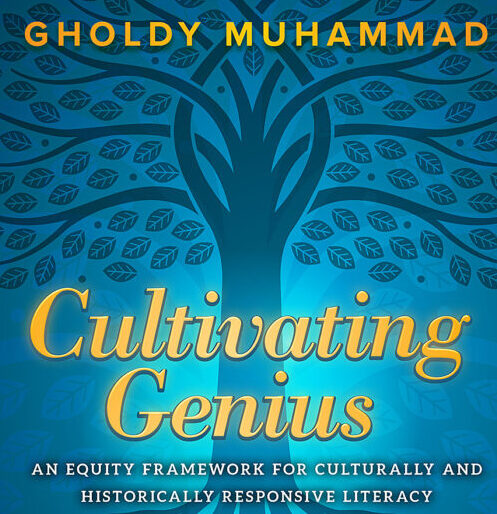 Title: Cultivating Genius: An Equity Framework for Culturally and Historically Responsive Literacy
Author: Gholdy Muhammad
Publisher: Scholastic Inc.
Release Date: January 1, 2020
Genre(s): Education, English Language Arts Teaching Materials, Literacy
Pages: 176
Content + Trigger Warnings: n/a
When someone asks you to describe the students in your school what comes to mind first? Where do you start students' stories? Are your first thoughts of their joy, brilliance and genius? Or do you begin with their deficits, shortcomings and faults? Author Gholdy Muhammad asks readers how they would like to be introduced to strangers and in doing so she stresses the importance of starting student "stories and identities with their excellence".
Cultivating Genius: An Equity Framework for Culturally and Historically Responsive Literacy offers a four-layered framework for educators to reconsider their learning goals, lesson plans and the texts they use to teach. Muhammad provides context beginning with the history of Black Americans in their quest for liberation through literacy. She underscores the importance of this history as an opportunity for all educators to begin to understand the experiences of marginalized and racialized students. The book is equal parts cognitive, sociocultural and critical while offering tangible pedagogical next steps for multi-disciplinary teachers with an emphasis on literacy.
Cultivating Genius is a call to action for teachers to cultivate their mind (intellect), the heart (how they feel about youth) and their hands (strategies and methods used in the craft of teaching) because "as long as oppression is present in the world, young people need pedagogy that nurtures criticality". Excellence in literacy education gives students a chance to experience the beauty and purpose of reading and literacy and the agency to transform the world around them.
Reader review written by K. Davison, ELAN Social Media Coordinator / Curriculum Consultant: Literacy (9-12), Mathematics (9-12) HCDSB